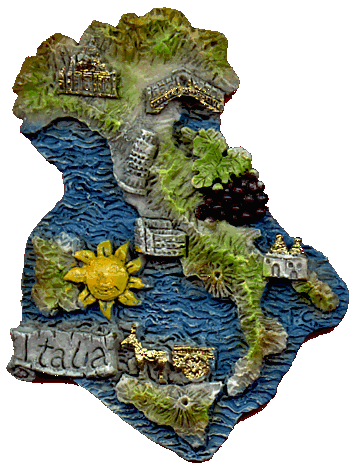 This year I finally took a vacation, and boy did I make it a good one. I took Kathy to Italy with me and we had an amazing time. Since it was our first time to Italy we weren't exactly sure what to expect -- some people told us it would be great, others warned us of pickpockets and muggers, others told us it was dirty, while others told us it would be crowded, but beautiful. I suppose the latter is the most accurate, though I certainly had no complaints about crowds as I was so overcome by everything else my eyes were experiencing. It was beautiful. The Italian people were very friendly. Everything was amazing.

Okay, so the trip wasn't perfect, but the only problem we had was due to our luggage not making our flight to Rome when we connected through Paris.

We did 4 cities in basically 8 days (plus 2 days of travel), so we didn't get to see a lot in each place, but we did get a good taste of each and hit most of the main attractions. If we had been there longer, it might have been nice to wander further away from the cities to get a better taste of the local culture, but alas, we had no time. Maybe next time we can do that.
Even though we were only there for 8 days, we did take a lot of pictures...and I mean a LOT. I took probably 400, and Kathy an additional 500 or so! Yikes! I should have bought a digital camera; it would have paid for itself considering the cost of developing that many pictures vs. only printing the ones we liked. Oh well. Next time, for sure.

So where did we go and take all of those pictures? If you're in a hurry and just want to look at the pictures, here are the details of what we did in each city. Click on the links (city names) below to go to the pictures and narrative for each section of our trip, and if you're interested in reading a brief overview of the trip, keep scrolling down on this page...
| | |
| --- | --- |
| Please let me apologize in advance for any slow-loading pages. There are just so many great pictures that I want to share! Venice is probably the slowest page to load -- 2 minutes if you're using a dial-up modem -- but definitely worth the wait. I'm figuring that most viewers will be looking while at work over a fast Internet connection, so I didn't try too hard to keep them much faster, plus doing so would have meant even more separate pages to view, so this is really simpler anyway. | A map -- to give you an idea of where we went: |
Don't worry -- all 920 pictures are not on this web site. That would be insane. I've kept it to a reasonable number -- sort of -- a couple hundred -- 227, to be exact. Try picking 30 or so out of a selection of nearly 1000 and see how easy it is -- or isn't! ;-) Hopefully I've made the site easy for you to navigate. There are definitely enough pictures to give you a taste of the trip, and maybe the desire to go experience Italy for yourself. If you go, you will love it and the people.
If you want a really short tour, you can look at the Mini-Album of only 36 pictures that Kathy picked out, but really, the main pages (listed above) containing 227 pictures goes by pretty darn fast.

An Overview
In short, Italy was wonderful. Amazing. Fantastic. Rome felt completely safe, as did everywhere else, and Venice was beautiful and not at all smelly like some people told us it would be. We loved each city we visited.

We started out in Rome. The day we arrived was the only bad day of the trip. Our luggage didn't make the connection in Paris and Air France only had record of one of our pieces getting on a later flight and no record whatsoever of the other! So, rather than going to the hotel (40 minutes away) and possibly having to come back to deal with the other "unaccounted for" bag, we sat at the airport...and sat...and sat. The bags weren't on the next flight in from Paris. They weren't on the one after that either...they were on the 3rd flight after ours....five and a half hours of waiting! And by then we had been awake for 26 hours! Thankfully, both bags showed up together on that third flight, so the worries were over, although the first day was pretty much blown and we only had one other full day in Rome! So we went to the hotel and rested for a short time and that night we went to see some of the sights that were close to the hotel (Spanish steps, etc.). The next day was a really full day to make up for losing so many hours the day before. We did the Vatican City (museum, Sistine Chapel, St. Peter's Basilica, etc.), then headed over to the Coliseum, ruins, Trevi Fountain, Pantheon, etc. -- a very full day. Everything was very cool...and HUGE! You cannot appreciate the sights without being there in person. Absolutely amazing.

The next day we headed by train to Florence -- the art center of Italy. It had a very different feel than Rome. Very beautiful too, and the churches were amazing. The following day we did more sight-seeing of Florence, then hopped on a train for a side-trip to Pisa to see the leaning tower, and then back to Florence that evening and for another 3/4 day before leaving for Venice after dinner. In Florence, the Duomo (big church with a dome) was unbelievable. Beautiful, ornate, and HUGE. It holds 30,000 people!!! Can you imagine that? No, you can't, so don't even try ;-) We also saw the Boboli Gardens, museums, more churches, Michelangelo's memorial, and more.

We arrived in Venice around 9:30 p.m., so we really couldn't appreciate its beauty that night, but we knew it was something totally different than anything we had ever seen. Honestly, I cannot do it justice in words. It was beautiful, and very unique. There are no cars in Venice. You either walk (easiest/fastest way to get around) or take a bus (a boat) or a rather expensive water taxi. We stayed on Lido Island, so we had to take a (complimentary) water taxi back and forth morning and evening -- a slight nuisance, but the hotel was beautiful and the island was very quiet in comparison to the packed touristy San Marcos area...then again, if/when I go again, I'll probably stay in the San Marcos area for convenience.

Venice has the Grand Canal snaking through it, with smaller canals crisscrossing everywhere. The "roads" are for pedestrians and range from only 4 feet wide, to maybe 10 feet. And it's like a maze....zigzagging around, often running into dead-ends and backtracking. A couple of the tour books said to "let yourself get lost and enjoy finding your way back". Good advice, but actually hard to do because routes to the main bridges are well marked. Still, we tried to get lost and we came across some interesting sights we never would have seen if we just hit the tourist spots.

Needless to say, we didn't want to come home. I think another week (a couple more days in each city and/or more side-trips away from the bigger cities) would have been wonderful.
By the way, did I mention that we had a wonderful, wonderful, amazing time? Okay, so maybe I said that already.