---

Odd / Funny Things We Saw

What can I say...some simple things amused us and/or made us chuckle. Below are a few we caught on film.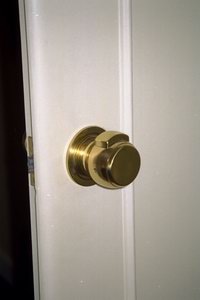 This doorknob is on our hotel room's door in Florence. You don't turn the knob; you press down on the button! My camera jammed right after we got our room, so I went into the bathroom and closed the door with the light off so I could open the camera in total darkness and un-jam it without losing any pictures. When I went to open the door (in the dark, remember), it took me a little while to figure it out because I hadn't noticed the strnage knob and I was wondering why it wouldn't turn. D'OH!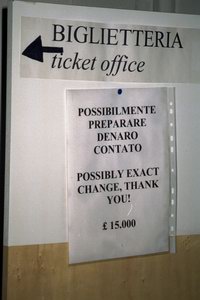 This sign was posted at the Uffizi Gallery in Florence.
So we might get exact change back or we might get ripped off?
Ohhhhh, you would like us to give you exact change. Okay.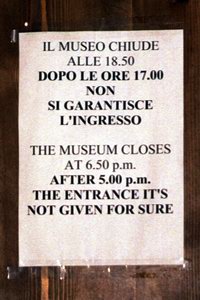 This was also at the Uffizi.
Huh? So if I come after 5pm you might not let me in? How about if I have exact change?
There was also another in an area (same museum as the last two above) that we couldn't photograph it. It said something like, "If you have a small umbrella, it is pleasing to place it in your bag."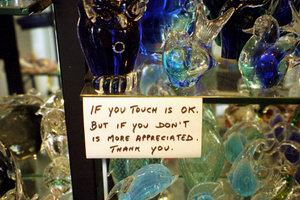 At a Murano glass factory (Venice), in its showroom.
How wonderfully polite. Sure, I'll keep my paws off.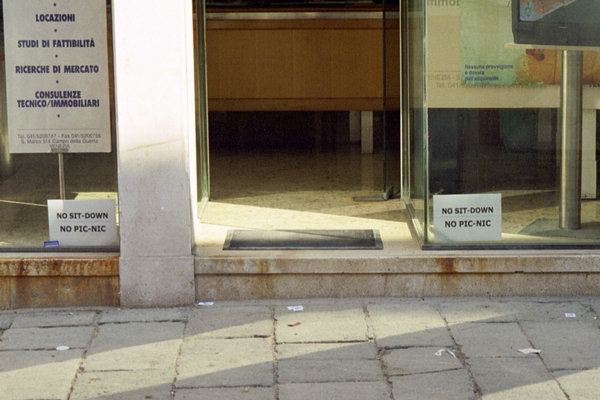 A business on the "streets" of Venice.
I guess I'll have to eat my lunch elsewhere. A restaurant, maybe?.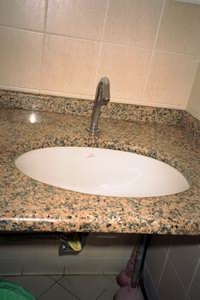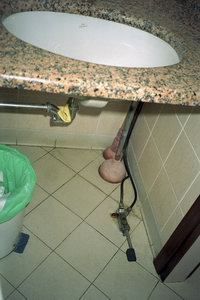 One day (in Venice, I think), Kathy came back from using the restroom at a restaurant, grabbed the camera, and disappeared again. She was amused by this. Initially perplexed, she stared at the sink wondering how to turn it on. It didn't seem like the kind of place that would have automatic faucets, but she put her hands underneath...and nothing happened. Hmmmm. Then she noticed the pedal on the floor, that when stepped on, it turns on the faucet. I guess that's an Italian solution to help with sanitary conditions. You never have to touch anything with your hands -- slightly low-tech yet certainly effective.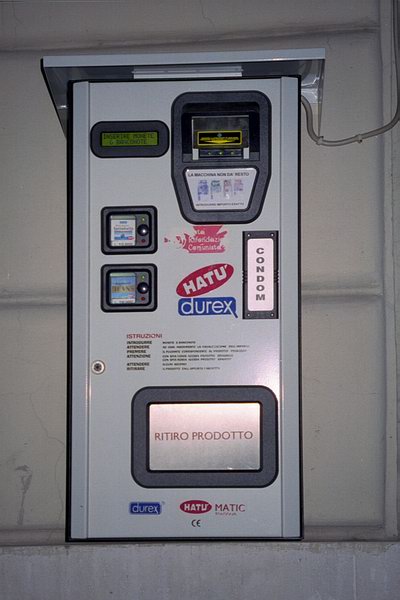 As we were walking down a street in Rome, Kathy noticed this Condom Machine on the outside wall of a building. Actually, it was outside the door of a pharmacy. I guess they don't want to keep anyone waiting! ;-)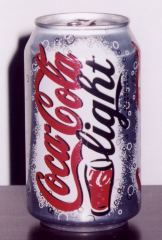 On a lighter note (sorry for the pun), there is no Diet Coke in Italy. It is called CocaCola Light, and it actually tasted a little more like regular coke than our Diet Coke.
---
(To Frank's home page)