Click on any of these thumbnail images to see a larger version...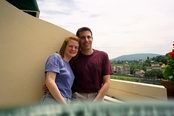 Kathy and me on our hotel room's balcony.
---
The next 4 pictures are the famous Ponte Vecchio (meaning Old Bridge). Long ago, there was the old bridge and the new bridge that crossed the river. The Ponte Vecchio is the only bridge not destroyed by the Nazis. What makes it unique is that it has lots of shops literally hanging off of the sides of the bridge that have somehow survived many floods.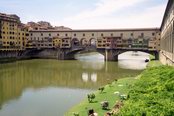 Here you can see the Ponte Veccio in the distances with all of the shops hanging off of it.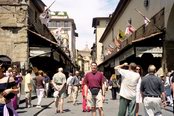 This is what the bridge itself looks like. There are no automobiles on it (anymore?), but there is the occasional bicycle...and lots of pedestrians.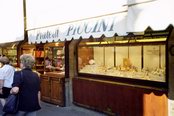 The little shops that look like shacks falling off of the sides are in reality very nice -- most of which sell fine jewelry!
---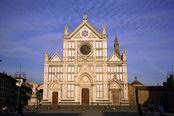 Santa Croce is this beautiful church (built 1294) that was near our hotel. We stopped by late in the day when there weren't many people around. I didn't realize it was worth going back to until just now when I looked it up to find its spelling. It actually contains some beautiful art and is the burial place of Galileo, Michelangelo and Machiavelli. Oh well...Next time.
:-(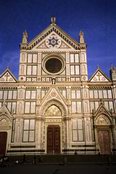 Can you see Kathy? This gives you some perspective of the size. Kathy is standing in front of the main door! Click on it to see her a little better in the larger picture.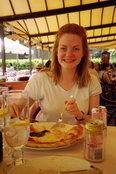 Kathy happily eating her favorite food: cheese pizza.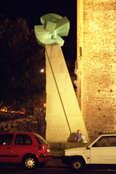 I wish I remembered exactly what this was. Kathy is sitting at the foot if it. It mentions Galileo. I don't know if it is a memorial, or indicates the location of something historical, but it is near Michelangelo's memorial.