Click on any of these thumbnail images to see a larger version...
The pictures below are somewhat random and don't "belong" on any of the other pages, but I felt they're worth viewing: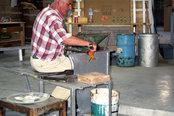 A man in a Murano (Island) glass factory, creating a glass horse by hand...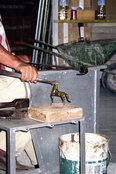 ...and the finished product.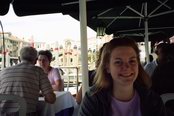 Kathy at a Pizzeria with the Rialto Bridge in the background.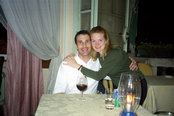 Kathy and me after dinner one night. It was a nice restaurant that we just stumbled onto while wandering through the maze of walkways. It had music (piano and sax) and a great atmosphere. We had no idea how to find it again the next night.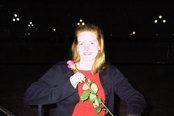 Kathy relaxing at San Marco's Square after our gondola ride.
.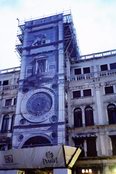 This is the clock tower at San Marco's...sort of. Anywhere they were doing repairs on buildings, they put these pictures (note the bluish color) of the building over the scaffolding so the building still looks like "normal" while under construction -- a pretty cool idea, huh?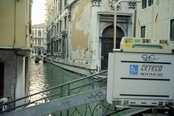 Venice isn't exactly handicap-friendly, but some of the (more popular?) bridges have these automated gadgets attached to them that people in wheelchairs can use to cross the bridge.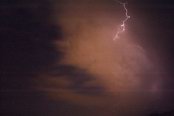 The last night we were there, it stormed so we had to cut the evening short and couldn't sit in San Marco's Square having wine and listening to live music. On the boat on the way back to the hotel we actually managed to capture one of the lightening flashes on film -- not easy!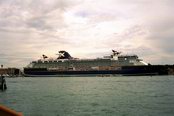 This is the largest cruise ship I've ever seen. It was docked in Venice for a couple of days.
---
These next few are taken from the airplane on our flight from Venice to Paris...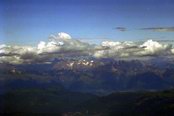 Swiss Alps.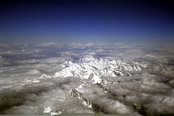 Swiss Alps.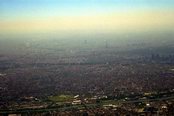 Coming into land in Paris. Can you see the Eiffel Tower? You'll need to click on the picture to view the larger version. Anyhow, that's as close as we got to it. Maybe on a future vacation we can go to France.