---

2000 Swing Dancing Photos
Go to 1999



---
Both Kathy's and Jennifer's birthdays are within a couple days of each other at the end of March. We, of course, ended up swing dancing. They did a "birthday circle" for Jennifer. (Kathy didn't want one...too shy, I guess.) Anyhow, that's when everyone gets in a circle around the person who's birthday it is and people of the opposite sex (usually) keep going out and stealing the birthday person away from each other to dance. It was a lot of fun. Too bad I didn't have a video camera...
Tom & Jennifer: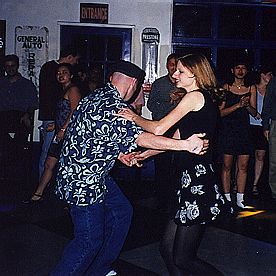 Taft & Jennifer: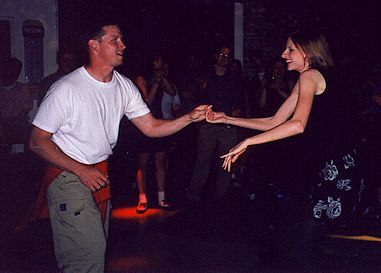 Your's truely (me) & Jennifer: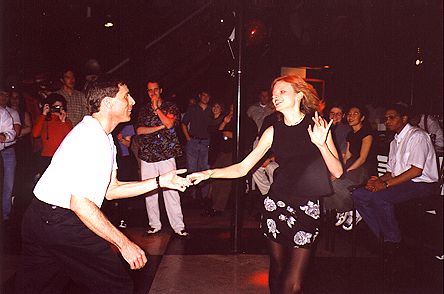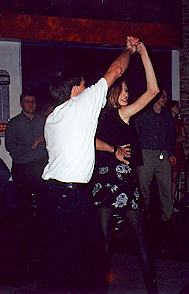 Later, Kathy and I were working on oral sex. No, no, no. That's the name of
a pretty cool dance move where hold her, flip her up and around my head, and then back down.
This is about 1/2 way through the move, paused for the picture. Come on, Marilyn, take the picture already!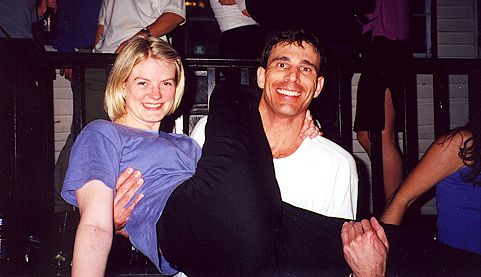 ---
Roughly once a month, Georgia Tech has a swing party. They usually have a live band and it's held in a wonderfully large ballroom with a huge dance floor. They could use a little more air-conditioning, but other than that it's a great time. This particular night there was a 13 piece "Big Band" orchestra that was terriffic. (It may have been the same one from the hangar-dance last year.) Anyhow...these pictures were taken on a digital camera, so they're not as good as scanned ones, but you'll live ;-)
Jennifer and I paused at a "break" in the song: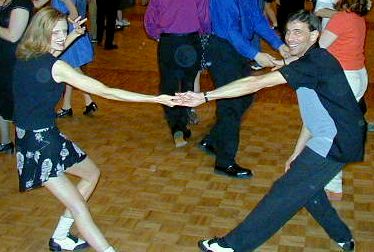 Jennifer and Mark with the band in the background: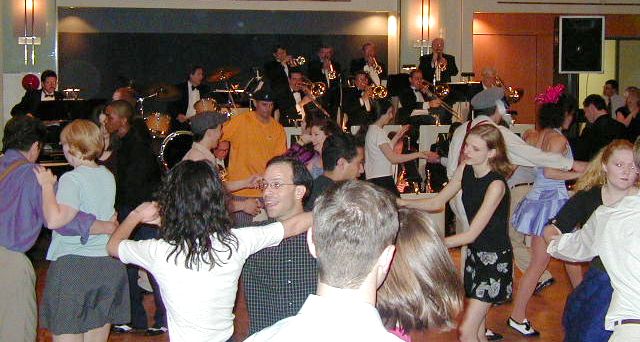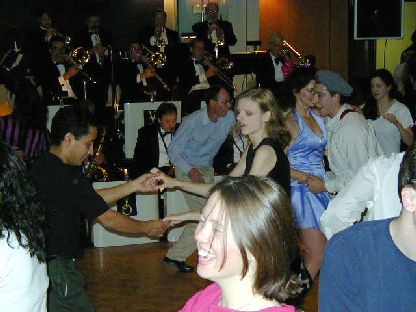 Just a shot of the crowd. You can see how huge the place is: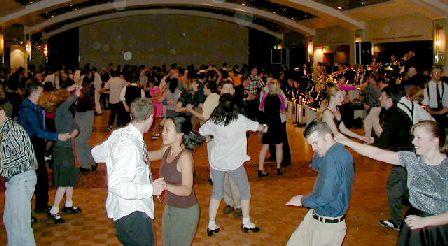 A local "Lindy Troop" (Lindy-Hop is a swing-dance style) put on a little performance during
one of the band's breaks. An interesting shot - all the women are in mid-air: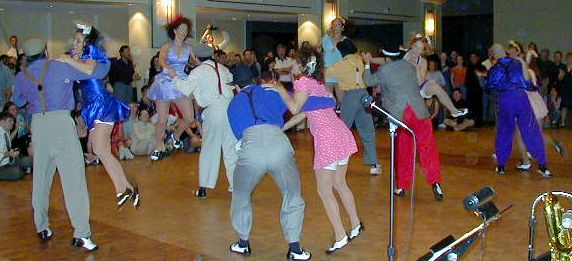 This is my friend Claire's back and her dance partner's butt.
I suppose it's not the best picture of them: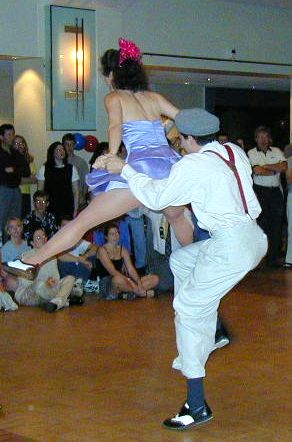 Okay, this is a better picture of Claire and her dance partner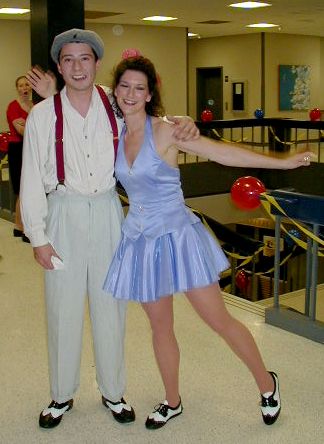 And here's me and Claire: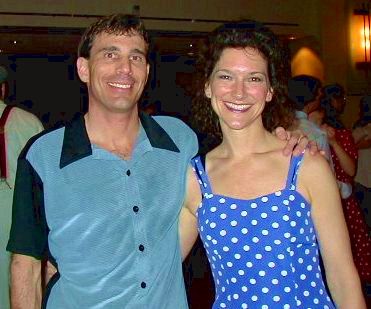 The American Lindy Champions were at this dance promoting a
workshop they were teaching the next two days in Atlanta. They put
on an awesome performance for us. His facial expressions were great: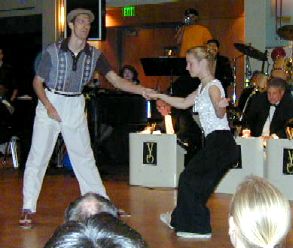 I suppose this would have looked better on video, eh?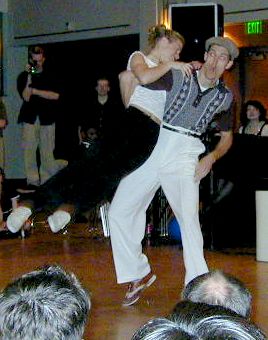 ---
Kathy and I danced at a Country Fair / Air Show in the Disney tent. The animated GIF at the top of this page is actually from this event. The shows in Disney's tent were mainly for kids, but of course parents were there too. We danced in three swing numbers. with three other couples. Here are some pictures taken from a video of the show: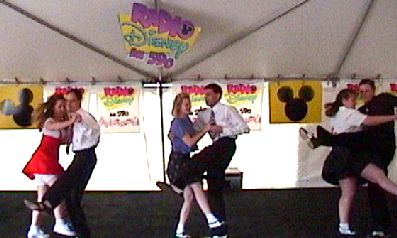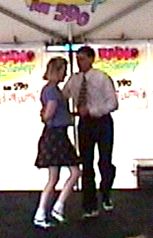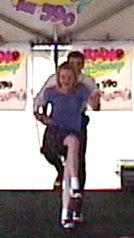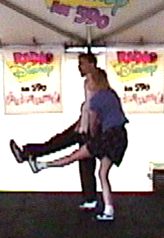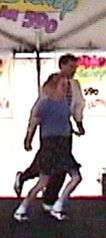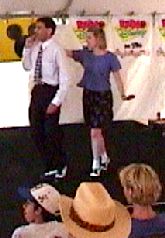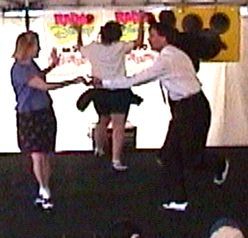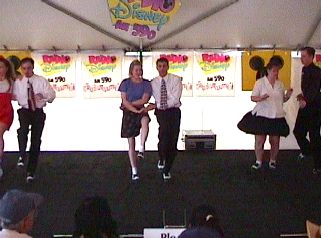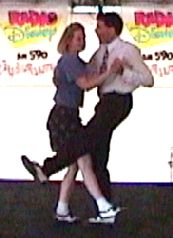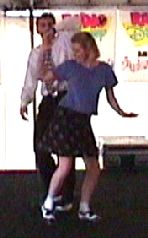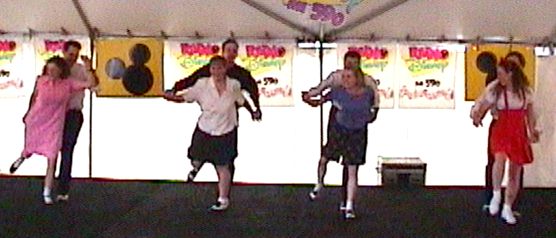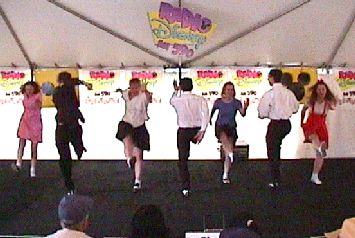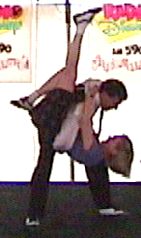 ---
My friend Jennifer and I were in a talent show at her school. She's a school teacher. The show was mainly for the kids, but there were a few acts at the beginning by the faculty, some good, some intentionally bad. Here's a few pictures of Jennifer and I...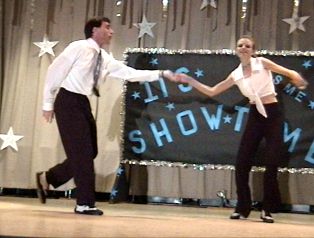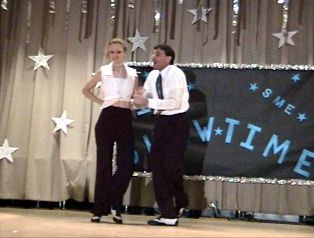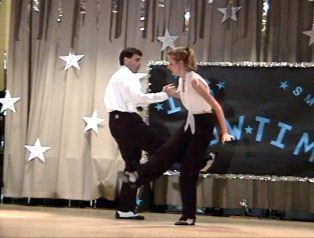 ---
Remember when Kathy gave me a black eye with her elbow last fall? Well, Jennifer did the same thing!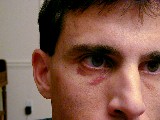 This time, however, it was caught on video! If you're patient enough, click here to get a 1.5 MB mpeg file, you can watch Jennifer whack me as I spin her in to what should have been a nice dip. OUCH!
---
That's it for now. I'm sure there will be more soon...
---