---


Labor Day Weekend '98 - Destin, FL


---
[Click on any of the thumbnail images to view a larger image]
---
A bunch of friends and I went to Destin, FL for Labor Day weekend this year. There were 12 of us in all, split between two condos we rented. Needless to say, we had a blast. We had 3 condos between the 12 of us. Two that opened up into each other and mine which was in the complex next door.
This was the view of the beach from my balcony. It was early in the morning, so that is why there aren't many people out on the beach yet.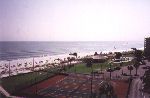 This is most of the group out at lunch Saturday. We had a great waiter, Sean, that kept us entertained and also took this picture:


The rest of the pictures were all taken the same night...Saturday night. Todd cooked up an incredible dinner, and there was more than enough alcohol to go around.
About 10 minutes before this was taken, and probably 5 minutes again after it was taken, the kitchen was a disaster area. Luckily Deb's friends Heather and Raquel are clean freaks. Heather is the one in the picture...with a towel, of course. Like Deb, she's really nice, sweet, funny and fun...but married. (Deb is single; just Heather is married.):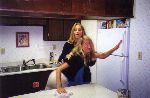 Somehow I became the maker of mudslides (okay, maybe because I really like them). Me and my friend Blender:

And of course I had to sample them. That's Deb's friend Raquel in the background attempting to clean up the place (again):


At one point while taking a swig of Goldschlager from the bottle, Deb looked over and noticed that there was Bible laying on the counter almost getting drenched in beer & mudslides. It seemed rather ironic at the time. Deb, me and Todd:

Deb & Todd doing a shot of Absolute Citron, and the group doing a toast with it too. (This was before Deb and Andrea decided to just start swigging directly from the Goldschlager bottle.):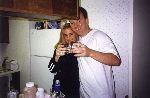 As I mentioned, Andrea seemed to like the Goldschlager. (And regarding Todd...I have no idea):

Amy, Steve, Deb & Andrea all looking at...Hmmm, I don't know what they're all looking at, but us isn't the camera:


Nothing exciting, just me and Deb:


This may not be as good without the sound effects, but at some point Michael grabbed this fake plant, put it on his head and started singing "At the Copa...Copacabanna...". Okay, maybe you had to be there:


Okay, here's Rocky (Raquel) with Heather in the background. She's a riot. She's totally hilarious and has this New York attitude that is entertaining as hell.


I have no idea. Don't ask. I don't even remember taking this picture. Deb appears to be dancing...or possessed, but what is Rocky doing behind her?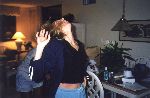 Group shot. Everyone (okay, almost everyone) piled into one of the kitchens. This would have been a great shot of everyone, but unfortunately, Andrea grabbed Deb's head and pulled it back as the camera flashed. I have no idea why Nancy is "shooting" me or why Steve, Todd and Michael are all sticking out their tongues at each other, but we ahd had a fair amount to drink by this point. Standing on the counter is Amy, above Andrea who is pulling Deb's head away from mine, and that is LoriAnn in front:


Ahhhhhh yes...the food. YUM! Shrimp and this incredible veggie stew thingy (I don't know what it was called but I never tasted veggies taste so good). Hoover (Deb) gets the prize for sucking down the most shrimp is the shortest amount of time. Rocky looks like she was a close second: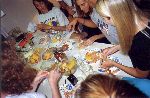 Yet another group shot while eating:


Andrea was obviously in a great mood. She laughed more than I've ever seen her laugh before:


I wish I could remember what it was that someone said (or did), but whatever it was, Andrea actually fell to the floor laughing so hard. Deb, Rocky and Heather, all P.A.'s, had a microsecond of panic when for an instant they thought that she wasn't breathing. It was only due to her intense laughter:


AHHH! WHAT IS IT! It's the obligatory Michael's eyeballs popping out picture. There's always at least one at every event:


Deb put on some lipstick then went around kissing just about everyone on their cheeks. I was unfortunately left out, something for which I will have to hassle her. Oh well. It was all quite funny at the time. I guess that got Todd in the mood to kiss his wife, Nancy too: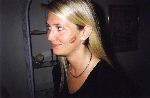 I have no idea, and I'm not sure I want to know:


LoriAnn and Michael during a game of "I Never"


QUICK! Get some napkins. Michael, more than a little buzzed, knocked over his drink and got it all over two decks of cards: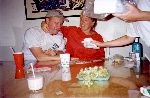 Again, I don't remember taking this, but it must have been at the end of the night, just before Sheila poured...I mean carried Michael back to our condo.


---
(To Frank's home page)