---
Miscellaneous Photos from '05
---
Click on any of the thumbnail images to view a larger image or for more pictures from that event.
---
First, a little "abstract art"...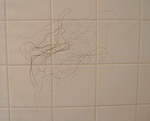 What does this look like to you?
Click on picture to enlarge, and answer.

---
NOTE: For faster loading, most events with more than a three photos each are on separate pages. Links to those pages are below. Everything on this page, including the links to the other pages, is in chronological order as usual, so if you are here looking for the newest links and photos, they'll be near the BOTTOM of this page.
---
Well, 2005 begins with a pretty slow start, especially compared to everything that's gone on in the past year....but maybe slow is a good thing.
For a couple of my friends, however, January was a very big month!

Remember Melanie? Well, her and her husband had a baby boy on January 12th!
And remember Deb? Well, here and her husband had a baby boy the very next day!
---
---
---
Our One Year Anniversary

Can you believe it's already been a year? Wow, time sure flies! We had a pretty simple, yet very nice celebration by going out to dinner, then spending a night at the Four Seasons Hotel with their "special occasion" package, where we got to enjoy their whirlpool, sauna, etc., for a wonderfully relaxing and "connecting" anniversary.
---
It's Springtime!

Spring is finally here, and although the Bermuda grass in the front isn't green yet, bulbs Cheryl planted last fall are popping up all over. Cheryl also planted some new flowers and shrubs in the front and back, which spruces things up nicely...and there are still lot of things we want to do.
---
---
---
---
---
---
---
The first holiday party of the Christmas season was my employer's party, which had a Mardi Gras theme...
The following week, was Michael & Sheila's annual Christmas party...
| | | |
| --- | --- | --- |
| Glen, Bill & me | Marsha with a handful of the kids. | Me, Debbie, Sam & Marsha |
---
---
((To Frank's home page)