---
2003 Holiday Season
---
Click on any picture for a 4x blow-up of it.
---
First it was "Meet the soon-to-be In-Laws" time for Cheryl...
...also known as Thanksgiving: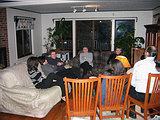 The family, sitting around after dinner
at my niece Beth's house.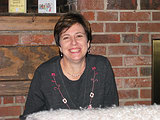 My sister, Gwen (Beth's mom)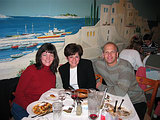 Cheryl with my best friend Gary and his wife Teri,
at a restaurant in the "Greek Town" part of Chicago.
---
Next was my employer's Christmas party: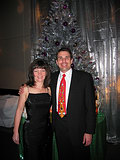 Guess, who.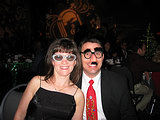 They had these weird glasses, among other things
on the table as part of the theme. We couldn't resist.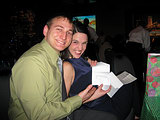 Jason, a co-worker, and his wife Janice.
---
Next, as tradition dictates,
Michael and Sheila hosted their annual Christmas Party: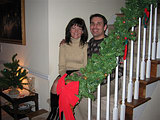 Wow. I remember when everyone at their party was single.
Now everyone is married with kids!
---
Christmas was my turn to play "Meet the Family"...well, sort of.
I'd already met everyone but Cheryl's brother and his family.
They're all really nice.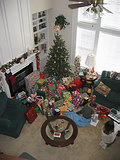 Presents!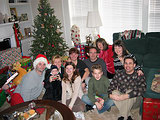 Everyone.

Me with Cheryl's nephew.
Cute!

Cheryl's brother in law
(obviously a FSU fan!)

Cheryl playing with
her nephew

Chery's nephew
disguised as a butterfly.
---
And last, us before going out on New Year's Eve:

---
(To Frank's home page)