---
Photos from Labor Day Weekend '00
---
Labor day weekend, we decided to take a drive down to Callaway Gardens in Pine Mountain, Georgia. It was sort of a last minute idea, but there was a balloon festival there, and we wanted to see them launch them and possibly take a ride in one. Also, they have a supposedly pretty cool butterfly center and some other attractions, plus things to do like bike ride through the park. Well, the weather started out icky in the morning, so we got a late start.
On the way, to kill time since the weather was just starting to clear up, we detoured to take a safari. Yes, a safari in Georgia. We could have taken a bus, but opted to take our own car (Hilary's car) instead. Thanks Hilary! That made the experience all the better. What I thought was going to be a silly little kids thing ended up being a LOT of fun. It's all on video -- much more than the pictures here -- and that video is a "keeper" because it's hilarious! It's too big to put on the web though, so here's some clips from the video and here's the pictures...

We were met at the gate of the park by a giraffe...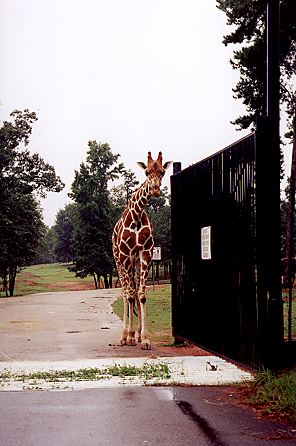 ...and a pony.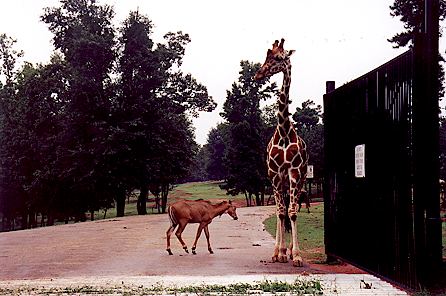 A view of him from the car window: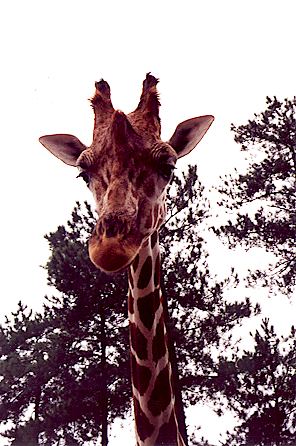 And another view as he was bending down to the window to take some food from Kathy: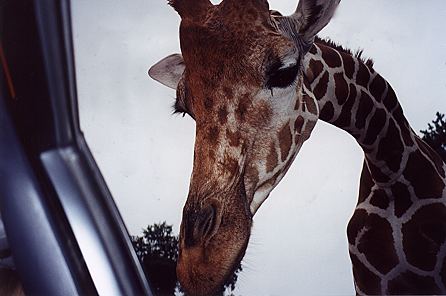 An Asian Water Buffalo:
An African Aoudad posing for us, before coming up to us to eat: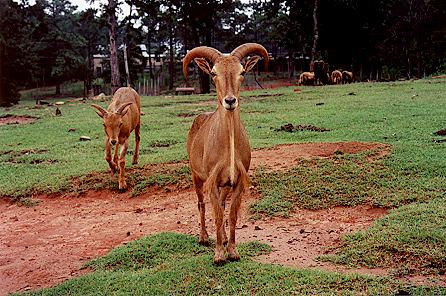 The three little pigs...baby Vietnamese Pot-Bellied Pigs, that is: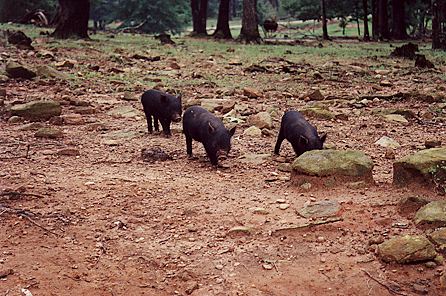 An adult too: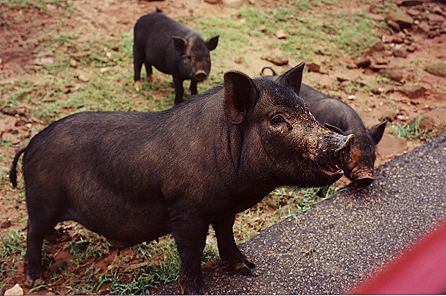 A horse is a horse, a horse of course...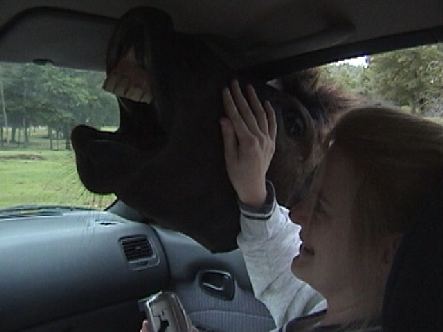 I have absolutely no idea what this is, but HELLO!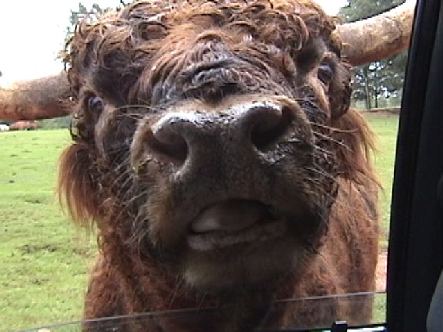 This guy, an African Wildebeest, wasn't very social: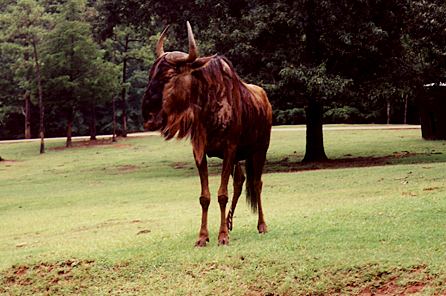 They kept the cats behind a fence...probably a good idea: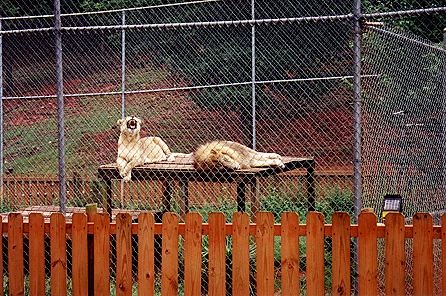 This is me trying to film this African Nilgai as Jennifer was feeding it: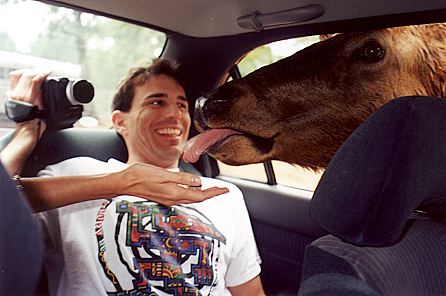 I guess he liked her!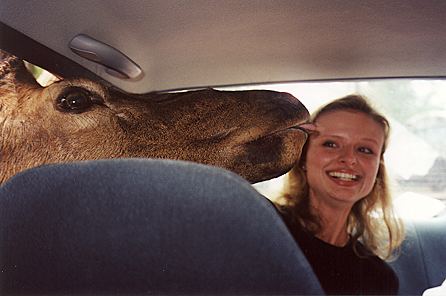 An African Zedonk: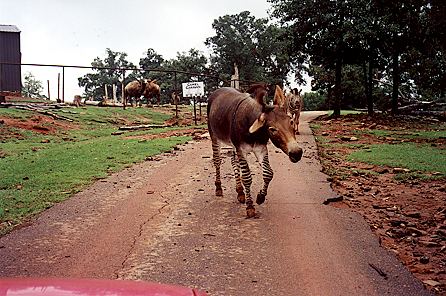 And a more normal Zebra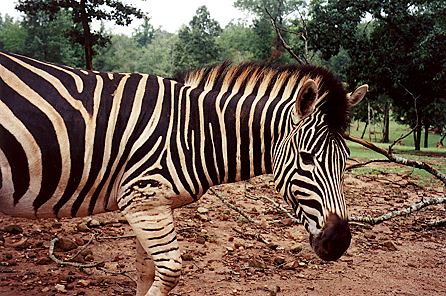 A Bactrian Camel that was behind a fence, craning his neck to try to get some food from us: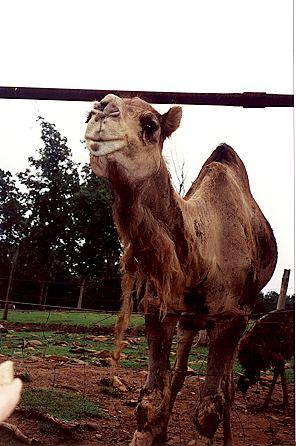 A rather smelly African Watusi posing with Kathy.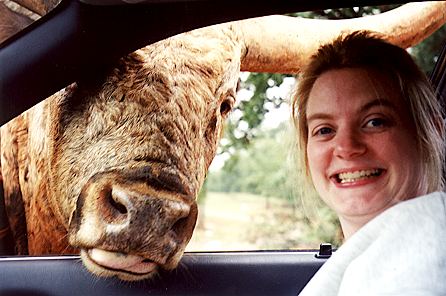 A North American Buffalo. Yes, this is an odd shot. Look out! He's heading right for us! He actually stuck most of his head in Kathy's window.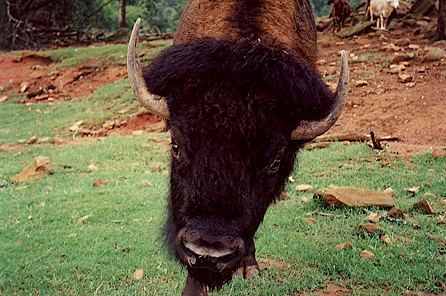 I'm not sure what this is. Some kind of deer, I suppose: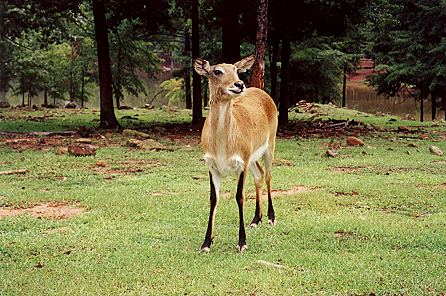 A buck posing at a distance, before approaching us: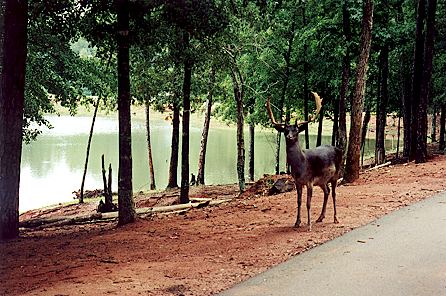 Is this guy smiling for the camera or what!?!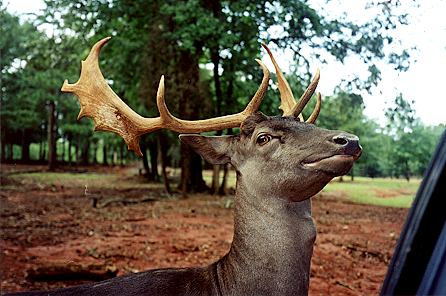 Nice ears, dude!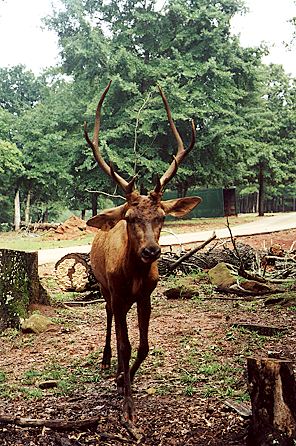 An ostrich...a bit intimidating: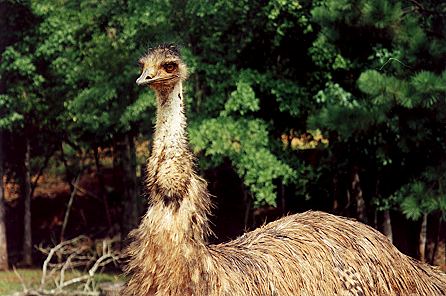 A Llama relaxing in the shade: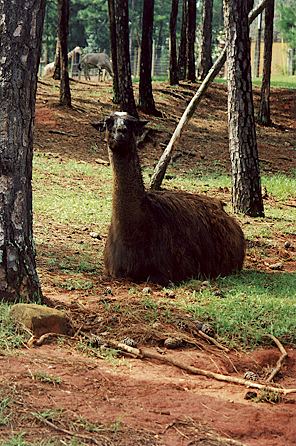 Jennifer, Me, Kathy, Hilary...and a wooden bear...after our little safari.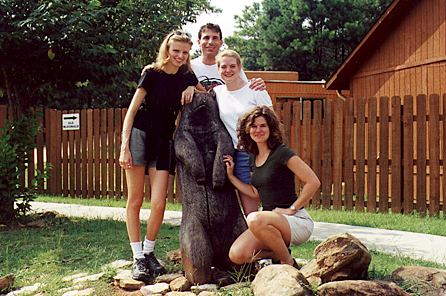 Next we went to what was supposed to be a balloon launch with lots of balloons. Unfortunately, just as we got there, they announced it was cancelled due to thunderstorms in the area. Bummer! Well, here's about all we got to see. This was actually the main thing we were going to see that day. The safari was just a spontaneous side-trip on the way...and a great one at that! Anyhow, here's a few balloon pictures...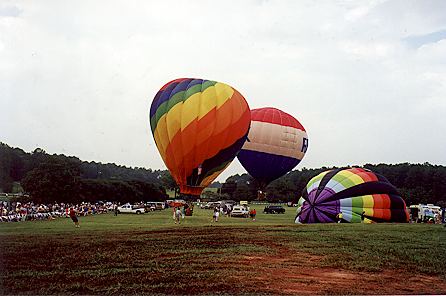 Us again...Hilary, Kathy, Me, and Jennifer: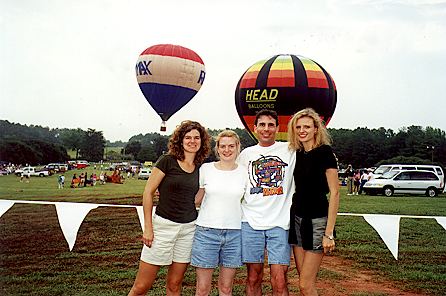 OH MY GOD! A GIANT ANT MUST HAVE SNUCK
INTO THE CAR DURING THE SAFARI AND NOW
IT'S ATTACKING ME. I HATE WHEN THAT HAPPENS!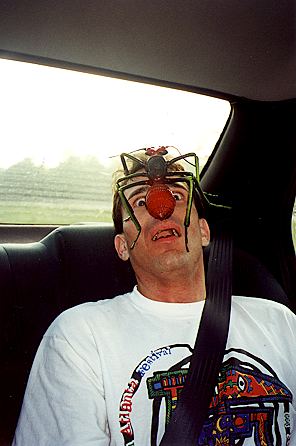 Another stow-away is Kathy's cousin, It.
(Jennifer got bored and...well..)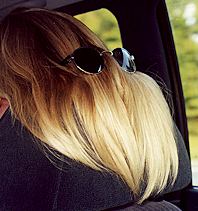 ---
(To Frank's home page)